Fad Gadget – Under The Flag
Brillante, estroso, geniale, bizzarro, eclettico.
E così via.
Quando si parla di Fad Gadget le definizioni in uso sono quasi sempre le stesse.
Veritiere, per carità.
Il problema è che se ne parla poco.
Troppo poco.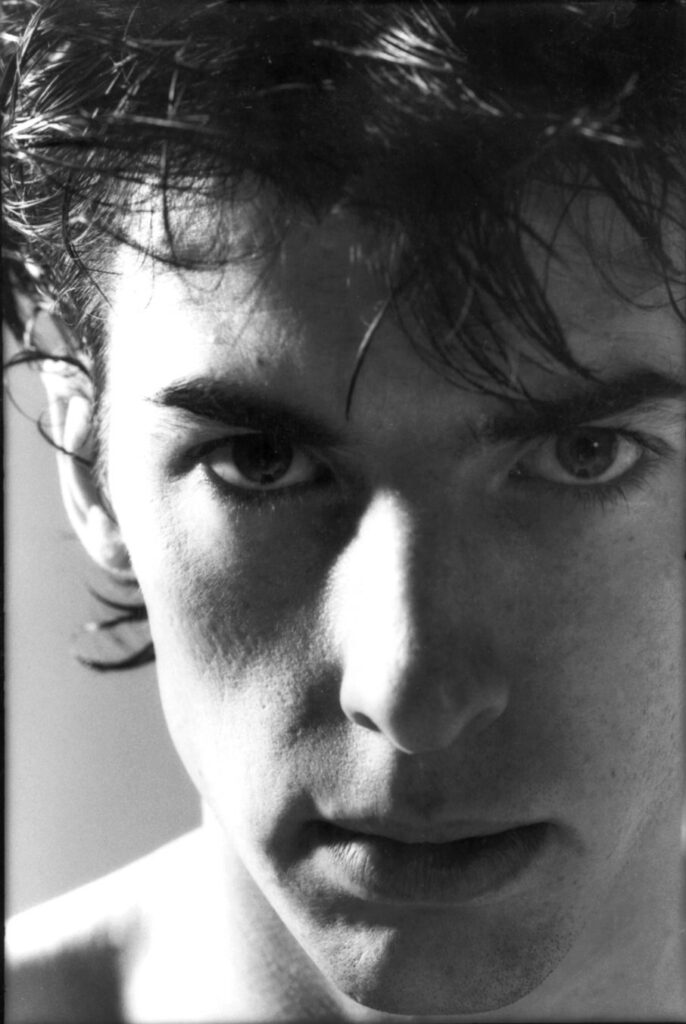 Frank Tovey, alias Fad Gadget, è stato uno degli artisti più innovativi e seminali della sua epoca.
Un musicista che si tende ad inserire nella lista di coloro che sarebbero "fuori dagli schemi" quando in realtà, a parer mio, il suddetto gli schemi -ammesso e non concesso che ne esistano di preordinati- è propenso ad inventarli, piuttosto che ad eluderli.
---
Una discografia intensa ed inconsueta che, purtroppo, si è interrotta precocemente.
Tutti gli album di Fad/Frank andrebbero approfonditi con attenzione, ma dovendo scegliere un "input" non esiterei a consigliare Under The Flag (1982).
Si tratta del suo terzo lavoro in studio che, dopo aver mostrato già il proprio talento, indirizza con forza e convinzione un processo di indubbia maturazione artistica.
A pubblicarlo è la Mute Records, fucina di talenti che prende il via proprio da FG e si specializza, sin dai primi anni ottanta, in suoni elettronici ed alternativi.
Daniel Miller, il fondatore, da subito riconosce in Frank le stimmate del fuoriclasse e lo accompagna nel suo percorso musicale con impegno e considerazione.
---
Under The Flag è un disco sperimentale: elettronico, new wave, synth-pop, post punk.
Si compone di dieci tracce ed è registrato e prodotto in quel di Londra con la supervisione di John Fryer, noto per le collaborazioni con Depeche Mode, Yazoo, Cocteau Twins e tanti altri nomi blasonati, del periodo in oggetto e di quelli successivi.
Un album che andrà ad influenzare il sound di moltissimi artisti, in quanto è semplicemente perfetto nella sua accessibilità ed espressività.
Senza punti morti, senza cali di tensione, senza esitazioni.
Viaggia ad una velocità che raramente ho riscontrato in dischi di musica elettronica ove, per natura, qualche momento di stasi è quasi indispensabile.
Intenso ed oscuro, trasmette all'ascoltatore tutti i timori di Frank, appena diventato padre, sul futuro del nostro mondo.
"Under the Flag I"
"Scapegoat"
"Love Parasite"
"Plainsong"
"Wheels of Fortune"
"Life on the Line IV"
"The Sheep Look Up"
"Cipher"
"For Whom the Bells Toll"
"Under the Flag II"
---
Alcune tracce mi piacciono più di altre, senza dubbio.
Però il disco merita un ascolto integrale, inscindibile, unitario.
Anche perché, come detto, suona talmente armonioso da non ammettere pause.
I testi alquanto lucidi ed oltremodo graffianti, trasudano angoscia e, nel contempo, speranza.
Le melodie, semplici ed incisive, spazzano via qualsivoglia coltre di diffidenza.
C'è dentro tanto, degli anni ottanta.
Per il suo lavoro successivo Frank traslocherà a Berlino.
Qui le atmosfere sono già anticipate, per chi ha approcciato un po' la materia.

In Under The Flag confluiscono tutti gli elementi che mi fanno amare l'elettronica, combinati alla perfezione con tutti quelli che mi spingono a "sentire", non solo dal punto di vista acustico, il post punk.
L'anima industriale e la tematica sociale annessa mi fanno pensare a Construction Time Again, dei Depeche, oltre a parecchia roba di Einstürzende Neubauten, John Foxx, Gary Numan e company.
---
Fad con i DM ha praticamente iniziato e concluso la sua epopea.
Tanti i punti in comune, tra cui i succitati Miller dietro le quinte e Fryer alla produzione, oltre al grande Anton Corbijn a curare la copertina.
Frank accompagnò i suoi amici anche nell'Exciter Tour, agli inizi degli anni duemila.
Una ripartenza, per lui.
Un momento di serenità, finalmente.
E con la vena creativa nuovamente in movimento e pronta a regalare ulteriori perle ai fans.
Invece, pochi giorni dopo ed a soli 45 anni, un infarto pone fine alla sua avventura sul pianeta Terra.
Una bella e doviziosa "relazione" sulla figura e la carriera di FG è presente su Ondarock, a questo link.
Dopo averla letta accomodatevi in poltrona e lasciate che la musica di questo talentuoso animale da palcoscenico, completamente privo di filtri e totalmente innamorato dell'arte in ogni sua forma, vi avvolga come una coperta impregnata di un caldo che fuoriesce dall'anima, più che dal tessuto.
I vostri sensi sapranno apprezzare, vedrete.
Fad Gadget – Under The Flag: 8
V74