Little People – We Are But Hunks Of Wood
Scoperto per puro caso.
Avrei detto "a culo", se mi fossi trovato in pubblico.
Qui, nell'intimo, fingo un'eleganza che non mi appartiene.

Little People, aka Laurent Clerc, anglo-svizzero cresciuto sulle montagne svizzere a pane e note musicali e poi trasferitosi dapprima in UK, più tardi negli States.
Un tipo curioso di tutto e di tutti, talmente bisognoso di esplorare ogni angolo di mondo da doversi concedere enormi spazi per viaggiare, finendo per trasformare la sua vita in un continuo periodo sabbatico nel quale matrimonio, paternità, lavoro e musica si intrecciano con tale passione da risultare propedeutici al prodotto del suo notevole talento.
---
Meticoloso, ai limiti del perfezionismo.
Sforna un album ogni morte di Papa, letteralmente.
E questo, quantomeno nella maggior parte dei casi, è indice di qualità, di impegno, di attenzione, di scrupolo.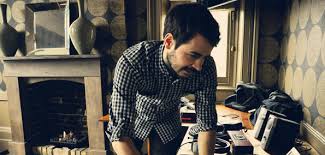 ---
We Are But Hunks Of Wood esce nel 2012.
Si tratta di un CD prodotto con maniacale concentrazione, curato in ogni minimo dettaglio e con un suono scorrevole, bilanciato, maturo.
Alla spalle vi è una ricerca rigorosa: si intuiscono parecchie influenze, di natura elettronica e non soltanto.
I sintetizzatori sono pulitissimi, gli archi disegnano traiettorie futuristiche, i bassi non risultano mai invasivi.
Il ritmo sgorga quasi naturalmente, come provenisse dall'esperienza sensoriale di chi lo approccia.
Viola, violoncello, violino e tutto il resto conferiscono alla composizione uno stile jazzato, tipico del downtempo, eppure senza quella fastidiosa tendenza ad enfatizzare alcune tracce che non di rado rende il genere (unitamente ad alcuni passaggi di lounge e chillout) eccessivamente pomposo.
---
WABHOW non annoia.
Sorprende, piuttosto.
Con slanci inaspettati ed inseriti in una sequenza che al termine dell'ascolto si rivela essere a dir poco perfetta.
Aldgate Patterns, Electrickery, Marzipan Children e M.N.O.P.Q rappresentano il poker di assolutamente imperdibili.
Per me non sfigurerebbero affatto nei migliori album di elettronica degli anni 80 e 90.
E ho detto tutto, per citare Peppino De Filippo.
Wonderland ha una dote unica: la voce (femminile), altrimenti assente.
Sembra un brano di trance tedesca, di quelle compilation che piacciono subito e tempo una settimana finiscono a far da spessore per reggere il mobiletto traballante della cucina.
Invero non è male, per quanto il sottoscritto lo veda come unico episodio leggermente minore nell'oretta circa di viaggio sonoro.
Il caso mi ha regalato una bella scoperta.
Grazie al caso, come si suol dire.
Oltre a ringraziare, ho anche approfondito.
Laurent Clerc ha fatto cose discrete prima e cose articolate dopo.
Qui, nel mezzo del cammin, vi è la virtù.
Intesa come talento grezzo -svezzato ma non ancora definito- che si prende la scena.
E la regge sino in fondo.
---
"Se dovessi abbandonare la Musica, mi riciclerei come cuoco.
Amo la buona tavola!"
Lascia perdere, Laurent.
Resta in studio, che va benissimo così.
Per te.
E pure per noi.
Little People – We Are But Hunks Of Wood: 7,5
V74