Minutemen – Double Nickels On The Dime
Quando la tracklist è più lunga dello stesso disco che introduce.
Geniale.
Tra i migliori album degli anni 80: soprattutto nell'approccio e nello spirito, piuttosto che nello stile.
Probabilmente Double Nickels On The Dime è anche uno dei lavori più difficili da analizzare e raccontare.
Perché è talmente insolito, ispirato, acuto, brillante e fuori dagli schemi prestabiliti da riuscire a volare alto su qualsivoglia lettura "classica" di genere, fosse pure la più erudita del pianeta (non è il mio caso: superfluo specificarlo, ma io lo faccio ugualmente perché mi diverte).
---
Quel che si può affermare senza timori di smentita è che siamo dinanzi ad un disco irrinunciabilmente rock.
Ove per rock s'intende un calderone allucinante ed allucinato di tutto ciò che potrebbe passare nella mente di un esercito di ottimi musicisti intenti a progettare la loro prossima fatica in studio.
I Minutemen, altrettanto ottimi, sono invece soltanto in tre e, per giunta, proiettati unicamente sulla propria quarta fatica in studio.
In studio, poi.
Si fa per dire.
Perché DNOTD nasce sul porto di San Pedro, a Los Angeles.
Da queste parti ondeggiava spesso il buon Charles Bukowski.
Deve essere zona che ispira, insomma.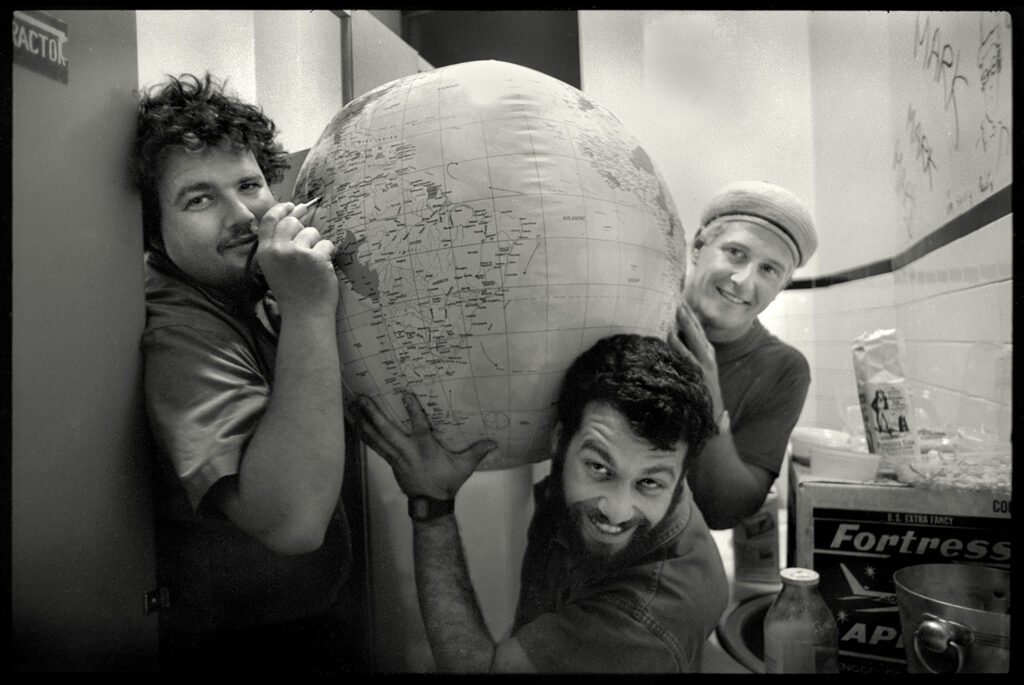 ---
D. Boon, cantante e chitarrista.
Mike Watt, bassista.
George Hurley, batterista.
Sono in tre, per l'appunto.
Squilibrati, talentuosissimi, imprevedibili.
Anni luce distanti dal mondo dello showbiz ed a distanza ancor più siderale da quel che sarà il moderno ambiente discografico.
Miscelano con spiazzante semplicità country, folk, blues, funky, punk, hardcore, jazz, alternative, crossover, rock, pop ed altre 220 cose ed entrano meritatamente nella Storia della Musica con questi ottanta e passa minuti di pura arte.
---
D.'s Car Jam/Anxious Mo-Fo
Theatre Is the Life of You
Viet Nam
Cohesion
It's Expected I'm Gone
#1 Hit Song
Two Beads at the End
Do You Want New Wave or Do You Want the Truth?
Don't Look Now
Shit from an Old Notebook
Nature Without Man
One Reporters Opinion
Political Song for Michael Jackson to Sing
Maybe Partying Will Help
Toadies
Retreat
The Big Foist
God Bows to Math
Corona
The Glory of Man
Take 5, D.
My Heart and the Real World
History Lesson, Pt. 2
You Need the Glory
The Roar of the Masses Could Be Farts
West Germany
Politics of Time
Themselves
Please Don't Be Gentle With Me
Nothing Indeed
No Exchange
There Ain't Shit on T.V. Tonight
This Ain't No Picnic
Spillage
Untitled Song for Latin America
Jesus and Tequila
June 16th
Storm in My House
Martin's Story
Dr. Wu
The World According to Nouns
Love Dance
Three Car Jam
---
Sveltine sonore di un minuto e qualcosa.
Spesso si arriva a due.
Raramente si giunge a superarli, i suddetti due.
In qualche occasione si prova a raggiungere i tre, ben centottanta secondi: ma non sia mai a riuscirci per davvero, oh.
Sarebbero dannatamente insopportabili, trasformando l'insieme in "forma canzone".
No, no.
Il piano è evidente: demitizzare, sconsacrare, mettere in dubbio, rivoltare e smantellare certezze e/o presunte tali.
In surplace.
Con disincanto.
Senza boria.
Ed è un piano assolutamente perfetto.
La voce ribelle di Boon è quanto di più calzante si possa trovare in giro per raccontare proteste, ribellioni, passioni, illusioni, frustrazioni, speranze, sconfitte, sogni.
La vita, ecco.
---
Un film sonoro composto da una traccia unica -impregnata di immagini oniriche- che si dipana in 43 rapidi ed intensi episodi fottutamente in tema e, nel contempo, assolutamente coerenti nella propria folle incoerenza, disparati come micro particelle impazzite e sparigliati in un ordine umanamente incomprensibile come solo una mente divina potrebbe essere in grado di concepire.
A fine anno, prima del brindisi, è la morte sua.
Ti accompagna malinconicamente nel salutare il vecchio e ti conduce sarcasticamente nell'andare incontro al nuovo: ricordandoti che tanto, volente o nolente, si tratta sempre della stessa deliziosissima merda.
Una serie di irresistibili scariche di pura adrenalina e, spesso, di autentico disincanto.
Molteplici colpi che feriscono senza uccidere.
Una sorta di tortura della goccia cinese al contrario, con la infinità curiosità di scoprire cosa ci aspetta per oltre quaranta volte consecutive.
Pure al ventesimo ascolto.
Qui, in questo gioco dalle mille possibili interpretazioni e soluzioni, è insita la più profonda meraviglia di questo album.
---
D. Boon perse la vita in una assurdo incidente in camper, poco prima di Natale del 1985.
I Minutemen finirono con lui.
Watt e Hurley intrapresero altri percorsi artistici, non privi di un certo interesse.
Ma il trio di pacifici matti non ebbe la possibilità di continuare a sfornare sorprese.
---
Double Nickels On The Dime è il loro capolavoro, oltre a quello di parecchie altre band di prima/dopo.
Disco che per brio, ritmo, bizzarria e talento (mi) ricorda Cubist Blues, di Alan Vega, Alex Chilton e Ben Vaughn.
Non a caso, un altro trio di estrosi fuori di testa.
Chissà cosa si sarebbero inventati i Minutemen, se Boon non avesse chiuso gli occhi per sempre.
Tutto o niente, probabilmente.
Senza vie di mezzo che, quelle sì, sono insopportabili.
---
Buon anno nuovo del cazzo a tutti!
E per fortuna che c'è la Musica.
Minutemen – Double Nickels On The Dime: 8
V74