Simple Minds – Direction Of The Heart
Li ho visti dal vivo una marea di volte, in passato.
L'ho già scritto, da qualche parte.
Li avrei rivisti ancora di recente, senza pandemia prima e senza la schiena sfasciata -ed una piccola operazione ad un neo sulla coscia, per non farsi mancare nulla- dopo.
Colpa mia, che dimentico troppo spesso di invocare i magnanimi Dei del male nei momenti in cui dovrebbero essere i distratti Dei del bene ad occuparsi delle varie questioni.
Aspetta e spera.
---
Dal vivo sprizzano allegria ed energia da tutti i pori, le menti semplici.
Sempre e comunque.
In studio hanno invece chiuso i battenti decenni or sono, dopo la dipartita (soltanto professionale, per fortuna) dell'ottimo tastierista Mick MacNeil.
Il mio ormai usurato paragone è con i Depeche Mode senza Alan Wilder: ugualmente dignitosi, manco poco, ma diversi.
Diversissimi.
Se alla lista degli assenti in casa SM aggiungiamo il notevole bassista Derek Forbes, Il buon tastierista Mick MacNeil ed i grintosi batteristi Brian McGee e Mel Gaynor beh, ecco che il gioco è pressoché fatto.
Sia quel che sia i Simple Minds, come i DM e forse leggermente peggio, hanno alternato cose buone ad altre decisamente meno interessanti, negli ultimi anni della carriera.
Poi, quasi a sorpresa, qualche settimana fa è uscito il loro nuovo disco.
Me lo sono subito spizzato su Deezer e ho provato a familiarizzarci un po'.
---
Direction Of The Heart è l'ultima fatica in studio degli scozzesi capitanati dal simpaticissimo Jim Kerr.
Oltre quarant'anni di carriera, quasi venti dischi pubblicati ed una marea di live, singoli, compilation e cover messe in bacheca.
Il picco, come detto, negli anni 80 ed in parte dei 90.
L'album in oggetto consta di undici tracce che nulla tolgono e poco aggiungono alla parabola artistica dei giovanotti di Glasgow.
La scorrevolezza dei brani è sicuramente degna di nota, assolutamente.
Vision Thing è il pezzo prescelto dalla band per aprire l'opera e rimanda ai migliori brani dei SM del passato, soprattutto quelli rockeggianti ed, in qualche maniera, "evocativi".
Natural appartiene al medesimo filone acustico, con la voce di Jim che accompagna melodie decisamente orecchiabili e quasi danzerecce come quelle di First You Jump, un'altra bella scarica di adrenalina pura.
La alquanto tonica Who Killed Truth?, la mia preferita del lotto, idem come sopra.
The Walls Come Down, una cover dei californiani The Call, possiede il suo perché.
Act of Love è un ritorno alle origini, una canzone degli esordi riproposta per l'appunto in omaggio agli albori della sagra SM.
Solstice Kiss potrebbe entrare nella scaletta di uno dei primi dischi del gruppo, per come suona old style.
Quel che avanza non è eccelso, ma è discreto.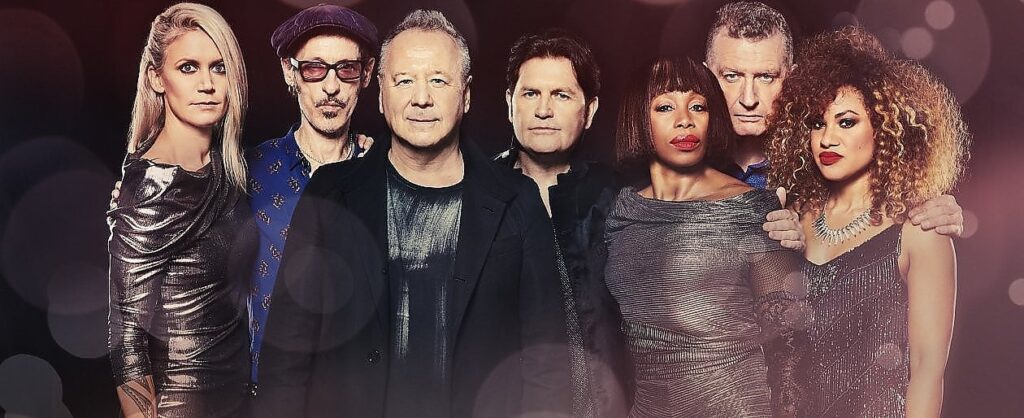 ---
TRACKLIST:
01. Vision Thing (04:39)
02. First You Jump (04:23)
03. Human Traffic (04:17)
04. Who Killed Truth? (03:58)
05. Solstice Kiss (05:23)
06. Act of Love (04:02)
07. Natural (03:26)
08. Planet Zero (04:10)
09. The Walls Came Down (03:55)
10. Direction of the Heart (Taormina 2022) (04:55)
11. Wondertimes (04:52)
---
L'idea di fondo di contrapporre la bellezza interiore al buio che ci circonda si riflette sulla copertina dell'album, che mostra il palese contrasto tra una spaventevole maschera antigas e dei fiori dai colori vividi e, nel contempo, rasserenanti, con leggiadre e dolcissime farfalle a svolazzare nei dintorni.
Si intuisce come Kerr ed il chitarrista Charlie Burchill vivano nella bucolica ed ispiratrice Sicilia, dove hanno composto le musiche ed i testi di questo disco, poi mixato in Germania.
Gli altri membri della band hanno fornito il loro apprezzabile contributo per una riuscita che, secondo me, è parziale.
Ovvero: 3/4 dei brani meritano senza dubbio l'ascolto ed il disco, nella sua interezza di una cinquantina di minuti nella versione deluxe, si lascia attenzionare con piacere.
Poi, però, non riparte.
Della serie: una sì, va bene.
Due no, altrimenti scatta l'allarme anti-noia.
Non è un limite di poco conto, a parer mio.
---
Il paragone col passato è illogico, ma sarebbe ipocrita negare che è pure ineludibile.
Inoltre la produzione suona alquanto pastosa, con una fastidiosa tendenza (oggigiorno abituale, sfortunatamente) all'esaltazione dei toni alti.
Insomma: prima il rumore e solo dopo, con molta calma, il pop, il rock, l'elettronica.
Prescindendo da questo aspetto "tecnico", per quanto non marginale, bisogna ammettere che oggi i Simple Minds sono una realtà da godere soprattutto dal vivo, quando non mettendo su i vecchi capolavori dei tempi d'oro.
Il resto è semplicemente ok e, non di rado, un pizzico di più.
Che per altri sarebbe già molto, intendiamoci.
---
Vado a scaricare calendari d'imprecazioni, cercando di meritarmi l'affetto delle divinità malefiche.
Così proviamo finalmente a rivederci in concerto, oh.
Nel frattempo un bel New Gold Dream sparato nell'etere casalingo, in ricordo di una epopea irripetibile.
Per i Simple Minds e non solo.

Simple Minds – Direction Of The Heart: 6,5
V74