Visione d'Insieme (DM)
Un paio di anni or sono, surfando sul web, ebbi modo di imbattermi in un disegno molto affascinante.
Al suo interno vi era tutta una serie di elementi che facevano riferimento ai Depeche Mode, in particolare al loro album Songs of Faith and Devotion, del 1993.
Il migliore del lotto, a parer mio.
---
Un disegno astratto, onirico, bizzarro.
Al centro della scena, appoggiata ad una croce, appare l'immagine suadente di uno splendido corpo di donna col viso nascosto da una maschera a forma d'uccello, una sorta di diabolico gioco tra peccato -commesso- ed assoluzione -richiesta-, chiarissimo richiamo al video di Walking in my Shoes girato dal geniale Anton Corbijn ed ispirato alla Divina Commedia di Dante, con una rilettura che ne accentua (per meglio dire: modifica) i tratti romantici e ne enfatizza quelli sensuali.
Un capolavoro di video e di canzone.
La lampadina di In Your Room, indubbiamente la mia canzone preferita di tutto il repertorio depechemodiano, è altrettanto in prima linea.
Ed è un'altra gemma di brano e di clip.
Non a caso le due interpretazioni preferite dell'album per Alan Wilder.
Che oltre ad essere stato un fulcro dei DM, è anche uno che di Musica ne capisce una cifra.
---
SOFAD è il disco della mia vita.
Il primo che porterei sull'ipotetica isola deserta, senza alcun dubbio.
Oltre ad essere quello che ascolto più spesso sull'isola reale, la mia.

Violator, l'altra meraviglia che lo ha preceduto (1990), è presente nel tatuaggio in quel volutamente minuscolo V74 che raffigura il mio storico nickname internettiano (Violator74), elaborato in un carattere oltremodo particolare per unirsi a tutta la spettacolare (IMHO) follia dell'opera, modificata in diversi aspetti rispetto all'originale, con una serie di ulteriori elementi aggiunti dal sottoscritto -con l'aiuto del fido Michele, artista ed amico- a definire e personalizzare, appunto, la visione d'insieme.
---
L'esplosiva miscela tra l'esito grafico, per così dire, ed il significato intrinseco del tatuaggio lo rendono uno dei miei preferiti, nella ormai quasi prossima lista per le Nozze d'Argento tra me ed i tattoo.
Ancor prima di completare il trattamento di protezione lo guardo e me ne innamoro ogni ora di più.
La lista prevedeva dapprima quelli "fondamentali", diciamo così.
Questo però mi piaceva un casino sin dagli albori e sulla pelle mi aggrada ancor di più.
---
Polso destro, a salir su.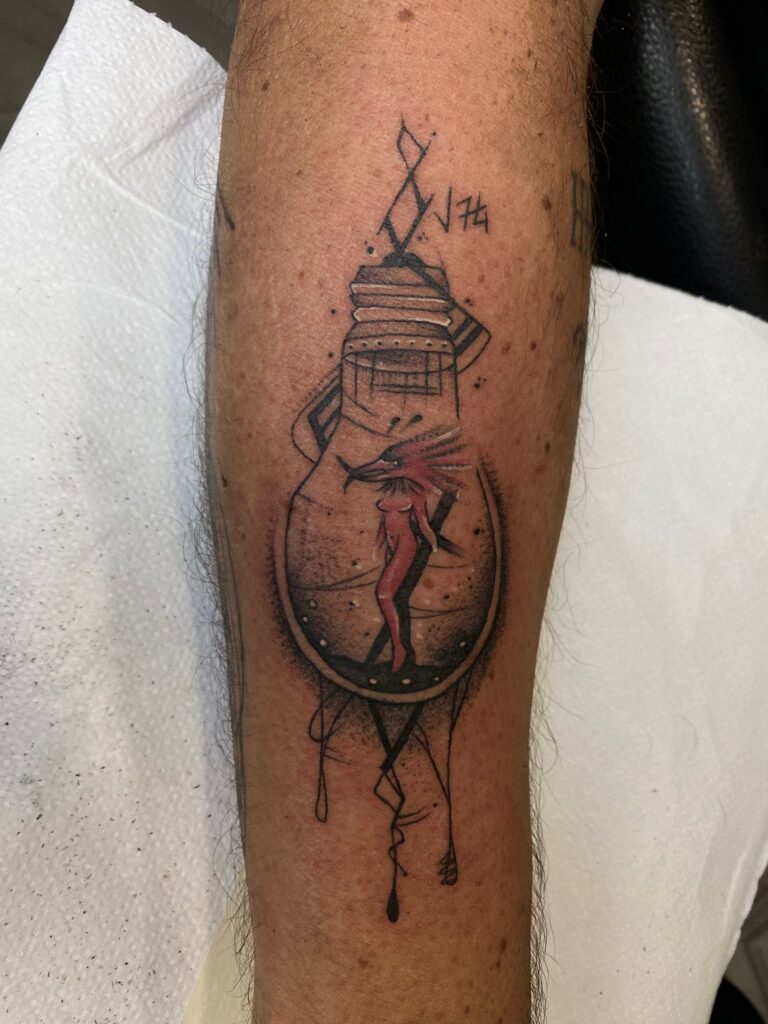 Bello, per davvero.
Ci vediamo a giugno 🤘😈, amici DM.
V74