Voice of America Coverage Analisys Program
Salve.
Vi segnaliamo un sito web, in realtà facente riferimento ad un software matematico per il controllo della propagazione utilizzato anche da Voice Of America, oltre che da moltissimi Radioamatori, SWL ed appassionati.
Digitando la Vostra zona di azione e le altre informazioni necessarie negli appositi riquadri che troverete, sarà possibile controllare in tempo reale il livello di propagazione sulle varie Bande e Zone.
Per le attività quotidiane e, soprattutto, per le spedizioni e le stazioni DX, questo strumento può rappresentare un fondamentale aiuto nel comprendere le molteplici dinamiche propagative intercorrenti tra le componenti in gioco.
Naturalmente la rete offre parecchio altro materiale in tal senso, per coloro che fossero interessati ad approfondire uno degli aspetti più intriganti del nostro meraviglioso mondo radioamatoriale.
Tra i vari applicativi similari, VOACAP risulta essere abbastanza intuitivo e discretamente funzionale allo scopo, negli ovvi limiti che ne conseguono ed a patto di rispettarne le indicazioni di base.
Sito di riferimento:http://www.voacap.com/hf/
Pagina wikipedia in inglese:https://en.wikipeda.org/wiki/VOACAP
Per chi possiede un pizzico di dimestichezza con la lingua inglese, un blog semi-ufficiale, con svariate informazioni e suggerimenti d'uso ed, in aggiunta, una guida sull'utilizzo di VOICAP per neofiti:http://voacap.blogspot.com/
Infine la guida ufficiale, sempre in lingua inglese, acquistabile anche in formato cartaceo -e con maggiori specifiche rispetto alla pagina web- ad un costo decisamente accessibile:http://www.voacap.com/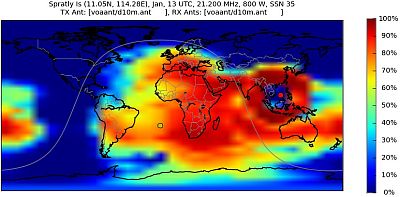 73!