Linea Aspera – Linea Aspera LP
"Prima la Musica era tutta un'altra cosa".

Un po' come "Sean Connery è molto più bello adesso che da giovane".
Oppure: "Non è tanto il caldo, piuttosto è l'umidità il problema".
O anche: "Qui una volta era tutta campagna".
E così via.
---
In effetti, prescindendo dai luoghi comuni, tra gli inizi degli anni 70 e la fine dei 90 è uscita roba da paura.
Pure prima e sicuramente anche dopo, certo.
Meno, però.
Meno.
Molto meno.
Un bel disco moderno, datato 2012, è quello de Linea Aspera.
Lei, Zoè/Alison, scrive i testi e canta.
Lui, Ryan, si occupa di tutto il resto.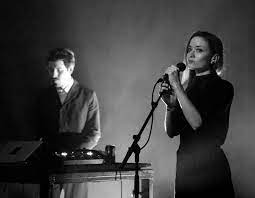 ---
Fanno musica elettronica di qualità, ispirati dagli ottanta (e figuriamoci) e da un background ricco di mescolanze che confluiscono in un lavoro, il primo, di assoluto interesse.
Linea Aspera LP, come da titolo, esce dopo un paio di cassette -in giro tra club e discografici- che valgono al duo le attenzioni di questi ultimi ed un contratto con i californiani della Dark Entries, specializzati nel valorizzare suoni della scena alternativa elettronica, in particolar modo con riverberi a quello che era il pianeta post-punk dai 70 ai 90.
Tracklist:
| | |
| --- | --- |
| 1 | Synapse |
| 2 | Eviction |
| 3 | Preservation Bias |
| 4 | Fer De Lance |
| 5 | Malarone |
| 6 | Hinterland |
| 7 | Lamanai |
| 8 | Reunion |
Il disco è bello e va giù come una bottiglia di quello buono.
L'inizio è proprio 80 con Synapse, stupendo brano dal ritmo algido e dall'incidere etereo, con la voce di Alison che picchia duro tra i sintetizzatori.
Eviction è un abbraccio oscuro e nel contempo confortante, una sensazione di ossimoro sonoro che eccita a dismisura.
Preservation Bias arriva al momento giusto, rallentando il battito e scandendo ipnoticamente un palpito di indefinibile geometria.
Fer-De-Lance esalta i cambi di tonalità della vocalist, mostrandone il notevole eclettismo.
Malarone rimanda ad un migliaio di cose contemporaneamente, eppure manifesta una vita propria.
Hinterland è un bel tamburo, ha qualcosa del troppo spesso sottovalutato periodo industriale dei Depeche Mode.
Lamanai è da concerto e va bene così.
Reunion, altro pezzone, chiude con classe una mezzora di sorprendente vitalità, dove si incontrano l'antico ed il moderno e si fondono in modo veramente sublime.
---
I testi puntano sulla emotività, con un retrogusto ansioso che inquieta e lega i polsi, mentre il tappeto musicale ottimamente gestito da Ryan accompagna la voce della protagonista in maniera assolutamente impeccabile.
It was never revenge for a glacial silence.
You are emptiness.
It was never revenge, it was self defence.
You are emptiness.

– Reunion –
Il disco suona quindi da paura, ancor di più in cuffia.
Oscuro, minimale, caotico ma mai stancante.
Mischia parecchi generi ed elementi e lo fa senza strafare, con un ordine non casuale.
Come detto, parecchi sarebbero i crediti, riferendoci al passato.
Eurythmics in primis.
Poi i succitati Depeche, i Soft Cell,
E hai detto cotica.
Nella mia follia mi è venuto in mente anche il cinematografico duo "Iris Blond and the Freezer": gran film, grande colonna sonora e grande perculeggiata a coloro che propagandano i sentimenti senza manco avere idea di cosa siano.
Tornando ai Linea Aspera: dopo questo album si sono sciolti, dedicandosi ad altri progetti, salvo poi rincontrarsi prima del Covid e tirare fuori altro materiale, altrettanto interessante, per quanto forse senza quel boato emozionale presente in questo ottimo esordio.
---
Un esordio sensuale, ammaliante, avvolgente.
Lei è sinuosa e conturbante, lui è tecnico ed avvolgente.
Un album degli anni 80 pensato, suonato e prodotto con lo spirito e l'estetica dei tempi d'oro.
Bene, molto bene.
Linea Aspera – Linea Aspera LP: 7,5
V74