Social Security – Dancing Head
1984, nella zona settentrionale dei già alquanto settentrionali Paesi Bassi.
Una scena sorprendentemente viva, con parecchi gruppi di talento a sognare di poter raggiungere la gloria.

In pochi ci riusciranno.
Molto pochi.
E i Social Security non saranno tra questi, manco a dirlo.
---
Dancing Head è la loro seconda uscita discografica.
Dal 1983 in poi danno alle stampe quattro album, in geometrica progressione -uno all'anno-, salvo riciclarsi successivamente in una variegata serie di progetti e collaborazioni, sia da solisti che in gruppo.

Eh sì, perché i Social Security sono in cinque:
– Jos Haijer è il vocalist.
– Joop Mols è il batterista.
– Martin Ploeg è il tastierista.
– Jan van Dijk è il bassista.
– Klaas Post è il chitarrista.

Oltre ai membri permanenti ci sarebbero inoltre i collaboratori, alcuni dei quali particolarmente vicini alla band e, di fatto, quasi dei componenti aggiunti.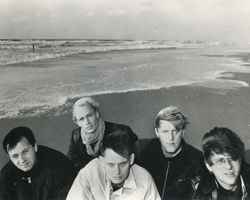 ---
Dancing Head è davvero un buon lavoro, a parer mio ben rappresentativo dell'ondata New Wave del periodo e, nel contempo, anche in grado di offrire degli interessanti spunti ampliando il proprio suono verso un Pop rockeggiante e melodico, decisamente "moderno".
Dancing Head
The Wedding
Too Late
Blame Game
Nine Dragons
Call Me
The Window
Il lavoro consta delle succitate 7 tracce, che nel tempo aumenteranno a dismisura con varie aggiunte (live, demo, remix) nelle successive edizioni, una delle quali molto recente.
---
La track list –Dancing Head– introduce l'atmosfera fondamentalmente giocosa dell'opera, con un bel ritmo che in alcuni passaggi mi ricorda un paio di pezzi di Speak & Spell, dei Depeche Mode.
The Wedding esce come singolo ed è una piacevole ballata su un testo ironico e mordace.
Too Late è il pezzo più 80 del lotto, dove vi è ogni singolo elemento musicale che ha caratterizzato la meravigliosa epoca in oggetto.
Blame Game riporta alle atmosfere festaiole delle sagre di paese, quando il mondo sembrava ancora essere un bel posto dove bisbocciare.
Nine Dragons pare la colonna sonora di un cartone animato di quelli storici, semplici ed indimenticabili.
Call Me possiede le stigmate della canzoncina del ***** che entra nella mente e non ne esce più, manco se spegni lo stereo e stacchi l'energia elettrica: sfiziosa, a dir poco.
The Window è il miglior brano del disco, a parer mio, e non sfigurerebbe affatto all'interno di album di ben altro spessore e successo.

---
I testi sono scritti nella maggior parte dei casi da Jos Haijer, mentre Martin Ploeg si è occupato della produzione.

Una mezz'ora di sound tipico della NW: fresco, pimpante, brioso.
Con qualche richiamo al commerciale: forse nel tentativo di attrarre le masse, oltre che gli appassionati del genere.
Ma pure -ribadisco- con degli stuzzicanti intermezzi meno leggeri, senza comunque mai sfiorare la ciarliera magniloquenza di certi dischi che hanno venduto migliaia di copie in più rispetto ai giovani olandesi.
I quali fanno musica ancora oggi (qualche info qui), per la cronaca.
Dancing Head rappresenta una buona occasione di svago per coloro che volessero fare il solito tuffo nostalgico nelle sonorità New Wave, a metà tra malinconia e spensieratezza.
Quella stupenda miscela che per chi ama gli 80s diventa semplicemente irresistibile.
---
Social Security – Dancing Head: 7
V74