The Future Sound of London – Lifeforms
Spettacolare.
Lo presi a Firenze, in pieno centro che più centro non si potrebbe, da quel che un dì era Move On, ovvero uno dei posti -insieme a Contempo Records e pochi altri- dove chi viveva e/o transitava per il capoluogo toscano poteva procurarsi della sana e salvifica musica.
E lo comprai con colpevole ritardo, cioè alcuni anni dopo la sua uscita sul mercato discografico.
Perché poco prima di fine secolo scorso mi imbattei in una interessante recensione che raccontava Dead Cities, di The Future Sound of London, un duo londinese incentrato sulla produzione di musica elettronica.
Riuscii ad ascoltare il disco e, andando a ritroso, pure il loro precedente lavoro: ISDN.
Entrambi mi piacquero molto, quindi divenne obbligatorio -seguendo lo stesso iter procedurale- procurarmi Lifeforms, del 1994.
Beh, nell'arco degli anni ho poi avuto modo di attenzionare gran parte della vasta discografia dei FSOL e, per mio gusto, non c'è storia: Lifeforms è di gran lunga il loro disco migliore o, quantomeno, quello che prediligo.
Quello che ha superato la prova del tempo, aggiungerei.
---
Dopo, molto dopo, ho scoperto che una delle mie band preferite di musica elettronica, i Carbon Based Lifeforms, hanno preso spunto proprio dal quasi omonimo LP dei FSOL, per il loro nome.
Era destino, insomma.
Album doppio, con 19 tracce in totale.
Una infinita miriade di campionamenti recuperati un po' ovunque ed utilizzati con sorprendente maestria.

Si usa spesso il termine "viaggio", quando si discorre di musica.
Io stesso lo faccio con notevole frequenza.
Ma in questo caso sarebbe scorrettissimo non citare la parola viaggio per descrivere le sensazioni che si provano durante l'ascolto di Lifeforms, un sinuoso tappeto sonoro che affascina, conturba, emoziona, vibra.
---
Track Listings
Disc: 1
| | |
| --- | --- |
| 1 | Cascade |
| 2 | Ill Flower |
| 3 | Flak |
| 4 | Bird Wings |
| 5 | Dead Skin Cells |
| 6 | Lifeforms |
| 7 | Eggshells |
| 8 | Among Myselves |
Disc: 2
| | |
| --- | --- |
| 1 | Domain |
| 2 | Spineless Jelly |
| 3 | Interstat |
| 4 | Vertical Pig |
| 5 | Cerebral |
| 6 | Life Form Ends |
| 7 | Vit |
| 8 | Omnipresence |
| 9 | Room 208 |
| 10 | Elaborate Burn |
| 11 | Little Brother |
---
Oltre un'ora e mezzo di ambient e di elettronica sperimentale -dalle venature minimali ed atmosferiche- nelle sue forme più disparate e coinvolgenti possibili.
Aphek Twin, Brian Eno, Orbital, The Orb, Klaus Schulze.
Poi arriveranno Goldie e tutti gli altri.
Dead Skin Cells (sublime), Cascade, Lifeforms, Eggshell, Spineless Jelly, Cerebral, Vit e Omnipresence sono i brani che metto su più volentieri, sebbene questa tipologia di album necessiti di un ascolto unitario e, nel mio caso, notturno e/o solitario.
---
Il qualcosa antecedente ed il molto successivo dei FSOL non è affatto male, tutt'altro.
Oltretutto nell'ambito di una discografia complessa e variegata come la loro, immersi in una costante ricerca sonora ed impregnati di una palese ed apprezzabile idiosincrasia nei confronti di ciò che possa risultare "commerciale".
Però, IMHO, Lifeforms è l'apogeo del percorso professionale del duo.
Certe sonorità paiono davvero provenire da altre dimensioni, dall'oltretomba, dalle profondità oceaniche, dalla foresta subtropicale dietro casa, dalla galleria sconosciuta che parte dalla nostra cantina e chissà dove cavolo arriva.
Il cospicuo impegno nella produzione e la presenza nel disco di Robert Fripp, Talvin Singh, Ozric Tentacles ed altri nomi importanti della scena musicale britannica confermano appieno il valore e la cifra stilistica di questo lavoro che tra poco compie trent'anni e ne dimostra il doppio di meno.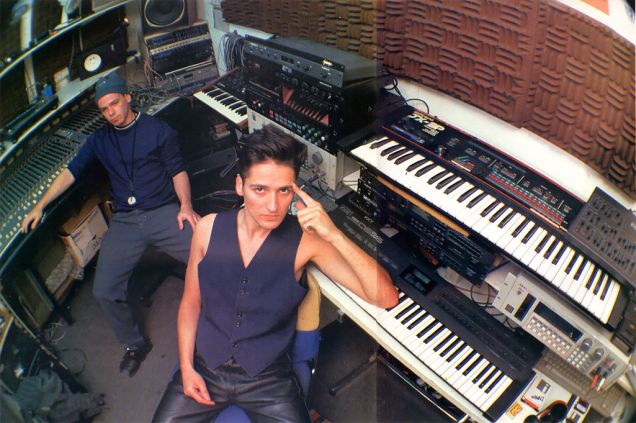 ---
Da un paio di settimane Lifeforms mi accompagna tra le braccia di Morfeo, subito dopo la solita puntata dei Jefferson, di Casa Vianello o di Sanford and Son.
Se i FSOL lo scoprissero, son certo che rimpiangerebbero amaramente la scelta di aver fatto i musicisti.
The Future Sound of London – Lifeforms: 7,5
V74