Beth Gibbons & Rustin Man – Out of Season
Come accennato qui.

Londra, esattamente venti anni or sono, tra ottobre e novembre del 2002 con Beth Gibbons, la inconfondibile vocalist dei Portishead, e Paul Webb, il talentuoso bassista dei Talk Talk del geniale Mark Hollis.
Paul si cela sotto lo pseudonimo di Rustin Man e convoca una quarantina di colleghi-amici (tra cui Lee Harris, batterista dei succitati Talk Talk) per dar vita ad un lavoro che vuol mettere in primo piano le emozioni a discapito di tutto il resto.
Tutto.
Nell'ensemble compare anche Adrian Utley, polistrumentista dei Portishead, che va così a ricreare un ambiente quasi familiare per Beth, contattata diversi anni prima dallo stesso Webb per una serie di progetti che poi, per varie cause, sono stati posticipati.
Il feeling e la stima che si sono venuti a creare tra i due protagonisti principali del disco sono però rimasti immutati e, finalmente, agli inizi del nuovo millennio la collaborazione ha un esito felice e confluisce in questo meraviglioso album -ottimamente scritto, deliziosamente arrangiato ed attentamente prodotto- che corrisponde al titolo di Out of Season.
---
Immesso sul mercato discografico in pieno autunno, ne ricalca le atmosfere in maniera oserei dire "impeccabile".
Folk, jazz, pop, soul, musica da camera, cantautorato.
Siamo davvero in autunno, oh, mentre le note musicali ed i molteplici riferimenti (pure nei titoli, volendo) scorrono lenti ed inesorabili, traccia dopo traccia, preannunciando l'arrivo dell'inverno.
Tra i tanti album musicali che ho avuto il piacere e la fortuna di sentire, questo è quello più si avvicina ad un approccio meteoropatico durante l'ascolto.
---
Mysteries
Tom The Model
Show
Romance
Sand River
Spider Monkey
Resolve
Drake
Funny Time Of The Year
Rustin Man
---
Il CD lo comprai a Berlino.
Lo metto su di rado, molto di rado, ma non dimentico mai di farlo.
Non vi è una regola, un timing.
Un po' come accade per altri 5/6 LP, ecco.
Va ad istinto, a sensazione.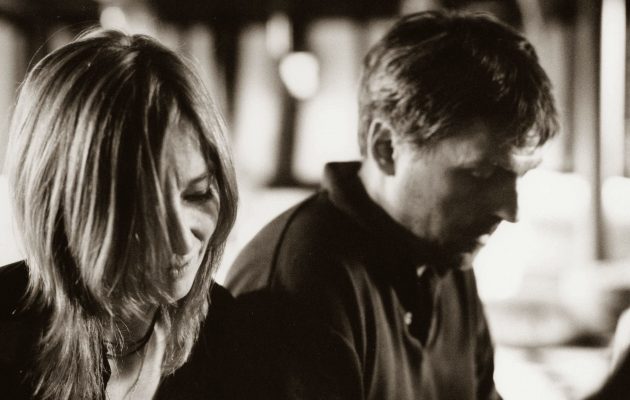 Perché Out of Season può essere curativo come soltanto la musica sa esserlo.
Ma potrebbe anche rivelarsi devastante, se dovesse iniziare a girare nel lettore in un momento inopportuno.
O forse è proprio quando fa male che è ancora più bello.
Quella malinconia che entra nell'anima, disintegra ogni resistenza, lacera tutto quel che si ritrova dinanzi e, infine, spazza via il "buio" in maniera lisergica, facendo spazio al ritorno della salvifica "luce".
Per ripartire un attimo dopo sulla ruota del destino, ovvio.
---
Show, la terza traccia, andrebbe prescritta per risolvere le pratiche più complesse: chi la supera, è salvo.
Altrimenti è finita ed è inutile girarci intorno: non esiste cura o speranza che tenga.
Brano sublime quanto deflagrante, con un testo di una semplicità disarmante, talmente etereo da sfociare nella poesia.
Let the show begin
Let the clouds roll
There's a life to be found in this world
And now I see it's all but a game
That we hope to achieve
What we can
What we will
What we did suddenly

-show-
---
Tom the Model è un brano che proviene dalla metà dello scorso secolo, con la voce di Beth che ondeggia suadentemente su melodie orchestrali di estrema raffinatezza.
Sand River è un altro pezzo poetico, ove l'accompagnamento sonoro -piacevolissimo- è fondamentalmente un di più, un bonus.
Spider Monkey narra l'amore in quella che è la sua reale dimensione, cioè la sofferenza.
Autentica e cruda, prescindendo dalle forme e dalle apparenze.
Un bugiardino dei sentimenti che, a seconda dei casi, o andrebbe distribuito nelle scuole per ridurre le future complicazioni emotive, oppure dovrebbe essere tatuato direttamente sulla pelle, in zona auto-leggibile, ad indicare la via terapeutica per andare incontro all'unica -immane- sofferenza che si ripaga da sola e con gli interessi: l'amore.
Funny Time Of The Year è calda, densa, sinuosa, inafferrabile.
Gli altri passi di questo struggente viatico verso la irraggiungibile redenzione sentimentale meritano, anch'essi, la assoluta dedizione e il mistico coinvolgimento.
---
Fumate, bevete, mettetevi in gioco e fatevi del male, per trequarti d'ora di viaggio introspettivo.
La deliziosa voce della Gibbons vi cullerà come se foste dei teneri infanti esposti ai primi freddi dell'autunno -appunto-, proteggendovi dalle imminenti e feroci tempeste invernali.
Vi sentirete meglio, credetemi.
E qualora così non fosse, è evidente che sinora avete vissuto a vuoto.
Oppure avete seri problemi di ordine mnemonico/cognitivo.
Brutta storia, in entrambi i casi.
Molto brutta.
Beth Gibbons & Rustin Man – Out of Season: 7,5
V74